Swimwear Sky Rise Bottom Dogwood by Lonesome Pictopia
We've collaborating with our friends at Lonesome Pictopia to create Dogwood swimwear! 
Lonesome Pictopia is a local Portland wallpaper company founded by Melanie Nead in 2017. They create original wallpapers, murals, and goods inspired by American tattooing, the Arts and Crafts Movement, and the wild spaces of the Pacific Northwest. The Dogwood print was Lonesome Pictopia's very first printed wallpaper! It was designed by LP founder Melanie Nead and inspired by the first tree planted with her husband when they bought their house here in Portland - a beautiful white-flowering Cornus Kousa Dogwood.

We made a very limited run and won't restock, so if you have a winter getaway planned or big dreams of lake time next summer, now's your chance to grab the ultimate suit.
Our Sky Rise Swimwear Bottoms are a high waisted cut. They will go all the way to the natural waist, much like our Sky Rise style Thundies, with the same no-wedgies fit around the bum. Made with Econyl recycled nylon/lycra (made from recycled fishing net and other plastic waste!) and sewn right here in Oregon!
Sierra is wearing a size Small Sky Rise bottom and size Small Swim Top.
Fit models (in Plain Black):
Caitlin is wearing a size MED Sky Rise Bottom: 5'5" tall, 34" bust, 30" waist, 40" hips
Breana is wearing a size XL Sky Rise Bottom: 5'4" tall, 46" bust, 37" waist, 53" hips
Constructed in very durable 78% recycled nylon / 22% xtra life lycra, Thunderpants swimwear is super comfy, just like the underwear. Stick to your undies size when ordering.
Thunderpants swimwear uses a staunch nylon/spandex fabric. Unlike the underpants, the swimwear needs the help of a bit of elastic to avoid any swimwear malfunctions when plunging in, other wise they are just as comfy as your undies. All the garments are made locally and lovingly in Oregon. 
To preserve the life of the fabric we suggest you rinse your swimwear in fresh water after use. Do not soak or bleach your Thunderpants swimwear items. Use a gentle detergent in a cold machine wash and dry your Swimwear on the line, not in the drier.
Swimwear Sky Rise Bottom Dogwood by Lonesome Pictopia
Customer Reviews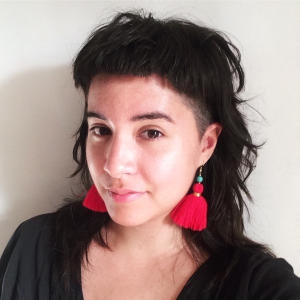 TD
08/01/2022
Tracy D.
LOVE
I LOVE MY NEW BATHING SUIT!!!!!
08/01/2022
Ali S.

United States
Best Swim Bottoms for Coverage
I haven't worn them in the pool yet, BUT I tried them on and I have never been so comfortable wearing a swim bottom in my life. There are no butt cheeks hanging out and giving me a not-wanted thong look PLUS there isn't a weird cut out in front to show the lady bits. THANK YOU.
07/06/2022
Gail S.

United States
Fab!
Just as comfy as the undies! Wore these for a good chunk of a day while on vacation and felt great doing it
05/26/2022
Emma

United States
Just Okay
I've been thinking about these for a few months. I love the comfort and coverage of the underwear, so I was really hoping to love these. But these didn't work out like I had hoped. These are a single layer in the back and double layer at the front. The waist and leg holes are joined together at the seams by a stretch stitch; they do not have a separate band. The butt coverage rides up too easily and they don't feel very secure. These feel and look like I'm wearing underwear. They're not terrible, but I can't comfortably wear them in public. I'm happy that I tried these, but I do wish I had re-read the return policy. When I ordered underwear, I knew that I would not be returning no matter what. Before I took a chance on these, I should have reviewed the policy to see that returns are only 14 days from order date.
05/04/2022
Meghan

United States
The Perfect Bottoms
I am so glad I picked these up - I just got them today and already cannot wait to wear! Recently been going through some changes with my body and my old swimwear doesn't fit right anymore. I had been feeling down, but since I love the Sky Rise undies I knew I had to get the swim bottoms and the fit is perfect. I'm a 2X with a 53" hip and they still have plenty of room while fitting nice and securely. Hope these stick around for years to come, with even more sizes, and would love to see more colors.