Made in USA
Organic Cotton
Ultra Comfortable
Drink up this refreshing combination of our Light Lavender and Deep Amethyst colors. It's pretty grape.
Find the matching Thundies here.
This print is retiring and won't be restocked - get 'em before the soda runs out!
Fit models (in Vanilla):
Caitlin is wearing a size MED Bralette: 5'5" tall, 34" bust, 30" waist, 40" hips
Breana is wearing a size 2XL Bralette: 5'4" tall, 46" bust, 37" waist, 53" hips
Constructed with the same Organic Cotton/Spandex as the Thunderpants, this bralette is super comfy. There is a piece of elastic sewn into the binding for extra support below the bust. It feels supportive and solid, without feeling constraining or too bra-like. You can consult our fit guide here or find the matching Thundies here. 
Thunderpants 90% organic cotton/10% spandex fabric is sturdy, very stretchy, and has great retention to give our garments just enough stretch and bounce back. It helps the undies to stay up and on, and the other garments to keep their shape without sagging or bagging. We use the same soft organic cotton blend to cut our binding into a wide strip instead of using elastic so their is never any irritating elastic against your skin. All the garments are made locally and lovingly in Portland, OR.
To preserve the vibrant colors and life of the fabric we suggest you do not soak or bleach your Thunderpants items. Use a gentle detergent in a cold machine wash and dry your Thunderpants on the line (they will survive drying on low, but may fade a bit and cut down slightly on longevity). If you do wash warm or dry, make sure not to use too much heat as heat will break down the spandex! 
Customer Reviews
Bralette
Fantastic Fit and comfort throughout my entire day Thank You
04/01/2022
Liz T.

United States
Love!
I have bought several items now and love them all!
04/01/2022
Annick F.

United States
Bralette
Everything looks great and feels great.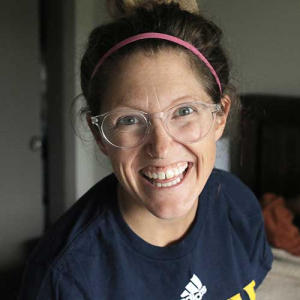 JI
02/04/2022
Jennifer I.

United States
Good product, eco-friendly
I really like the fit! I've foregone wearing regular wire bras and these are great. My only complaint is that the band/fabric irritates my skin underneath my arms. This is probably just a me thing, but I probably wouldn't purchase again for this reason. Really wonderful product though from an amazing company! Love the eco-friendliness and the minimal packaging. Keep it up!
01/21/2022
Lisa J.

United States
Quality product
I like the fit, but it doesn't really have enough coverage for me to wear for regular wear. That said, love it with my sweatshirts and pjs around the house. REALLY love the underwear!!